4eu+ Against Cancer – Summer School is back on July 2
24 April 2023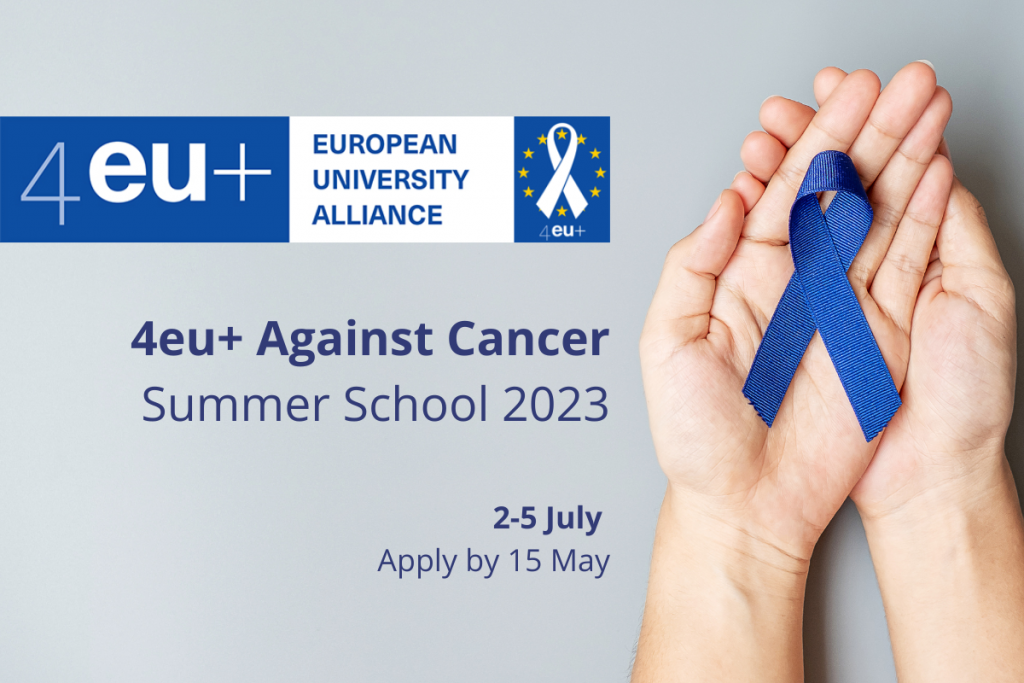 Translational and clinical research in oncology, basics of cancer treatments, bioinformatics, computational biology and drug development will be the main topics of the 2nd edition of 4eu+ Summer School. This time we are happy to invite you to Czech Republic (Marianske Lazne) between 2-5 July 2023.
The purpose of 4eu+ Against Cancer program (Comprehensive and integrative educational program in oncology) is to give students an overview of the multiple components of complex and multidisciplinary research in oncology. In addition, brief information about general principles of science funding will be presented.
During the summer school, the students will have the opportunity to attend lectures illustrating important topics of contemporary research in oncology delivered by a team of international researchers, teachers and members from 4EU+ universities. They will be able to interact with the experts, present their own article and research, expand their knowledge and build their own network.
4eu+ Against Cancer is a part of the Flagship 1: Urban Health and Demographic Change program and grants awarded oncology educational projects which the beneficiaries are:
Interdisciplinary Centre for Mathematical and Computational Modelling at the University of Warsaw;
Assistance Publique-Hopitaux de Paris (AP-HIP) at the Sorbonne University,
Czech Academy of Sciences (CESNET) and Charles University in Prague;
How to apply?
The summer school is open to students from the 4eu+ European University Alliance with a Bachelor or Master 1 degree or equivalent. Please send your motivation letter and your curriculum vitae to all 3 leading faculty by May 15, 2023.
This year's event is hosted by Charles University in Prague. Details can be found on 4eu+ Against Cancer website.