Online event: The LUMI Supercomputer and its potential for Polish scientists
15 October 2021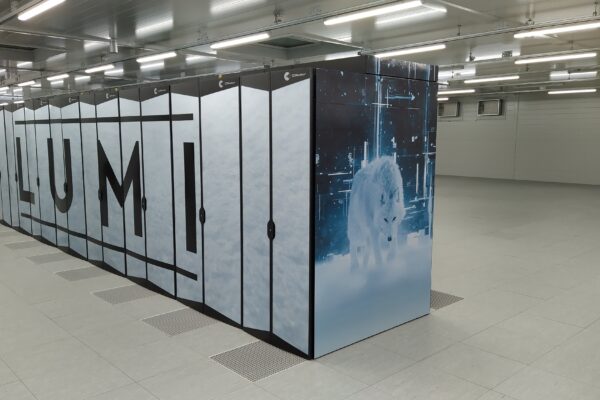 On October 20th, an event dedicated to one of the fastest supercomputers in the world – LUMI – will take place online. LUMI's infrastructure is being built by 10 European countries (including Poland) as part of the EuroHPC JU initiative. The event's program includes a presentation by Maciej Szpindler from ICM, who in collaboration with Cyfronet  is directly involved in the LUMI User Support Group.
The task for the LUMI's User Support Team is to prepare user environment, trainings and application offer for the implementation of the LUMI project bidders' resources. Showcasing services and the usage know-how during pilot phases and during the regular access will allow customers to prepare their own projects and apply for access to resources.
The conference "LUMI supercomputer and its potential for Polish scientists" is organized by the Academic Computer Center Cyfronet AGH. The conference will be held on Oct 20 2021 virtual. The program includes:
LUMI's place in the EuroHPC JU initiative,
construction of a supercomputer and related infrastructure,
software in a pre-exascale environment,
scientific challenges that can be answered thanks to LUMI,
projects selected to be launched in the test phase,
user support;
EuroCC – National Competence Centres EuroHPC.
Details, schedule and registration link can be found at cyfronet.pl/lumi-day  and events.plgrid.pl/event/4/
The conference will be a great opportunity to present the National HPC Competence Center (EuroCC) program, which in Poland is implemented by a consortium of six supercomputing centers: Cyfronet (leader), ICM, PCSS, CI TASK, NCBJ and WCSS. The main goal of the EuroCC project is to create an European technology support system based on National Competence Centers working closely together, which would allow the academic environment, the enterprise sector (especially SMEs) and public administration to benefit from the expertise, experience and resources of EuroHPC [see also: ICM University of Warsaw in the EuroCC project consortium].
---
More information about LUMI [ICM events]
Pekka Manninen, director of the LUMI Leadership Computing Facility: 'LUMI: Europe's flagship supercomputer" –Supercomputing Frontiers Europe 2021 talk [July 19th, 2021]