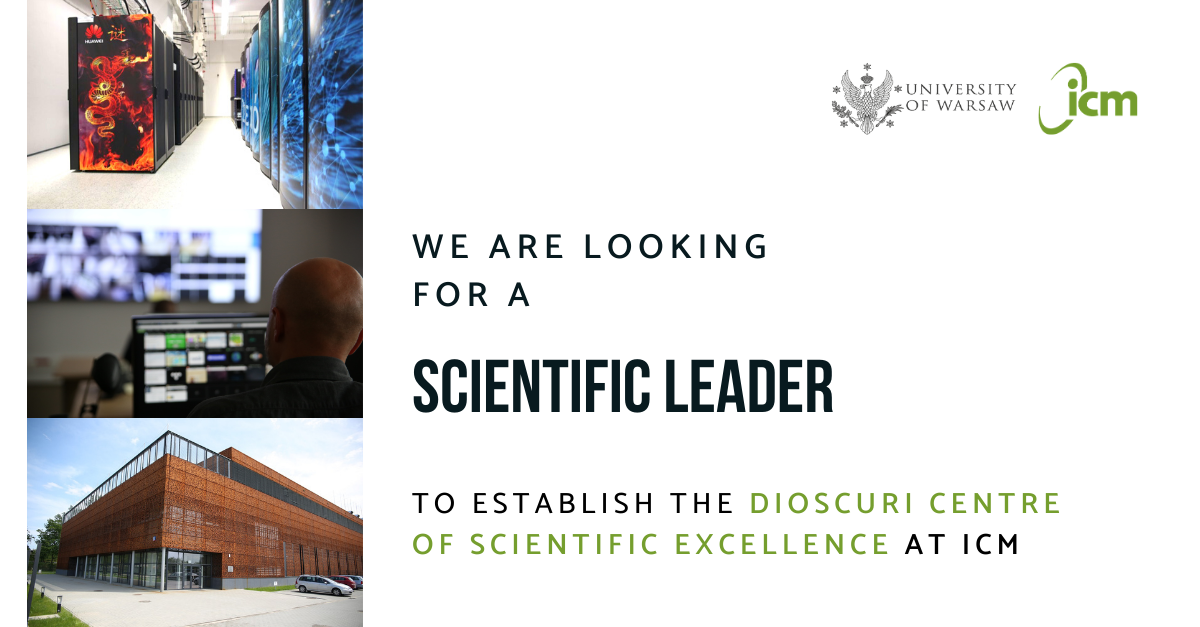 Interdisciplinary Centre for Mathematical and Computational Modelling (ICM), University of Warsaw is looking for a scientific leader to establish the Dioscuri Centre of Scientific Excellence at ICM
Dioscuri Centres of Scientific Excellence is a program initiated by the Max Planck Society (MPG), jointly managed with the National Science Centre in Poland (NCN), and mutually funded by the Polish Ministry of Science and Higher Education (MNiSW) and the German Federal Ministry of Education and Research (BMBF).
The full description of the program can be found here: https://www.ncn.gov.pl/dioscuri/
ICM will support candidates who satisfy the call criteria and who can prove research leadership in one or more of the following disciplines or areas:
Computational science with particular emphasis on:
– High Performance Computing and distributed computing
– Computational Physics
– Condensed Matter Physics (time-dependent phenomena, transport, non-equilibrium, nanostructures and nanodevices, etc.)
– Computational Biology and Omics
– Quantum Computing
– Numerical Methods and Algorithms
– Numerical Weather Prediction and Climate Modelling
Computer Science with particular emphasis on:
– Complexity and Computability
– Cryptography
– AI and ML
– Natural Language Processing
– Graph Theory and Semantic Methods
Any other area of research that is related to mathematical and computational modelling.
All interested candidates should contact dr Marek Michalewicz – Marek.Michalewicz@nullicm.edu.pl
Details about fourth call invitation: https://ncn.gov.pl/dioscuri/dioscuri4/invitation